Wal-Mart Workers Want Union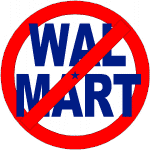 In a move that has been unsuccessful elsewhere in the United States, 17 workers at a Wal-Mart Tire & Lube Express have taken the first step to unionize at the world's largest retailer.
The National Labor Relations Board planned a hearing Thursday to consider the workers' request to be represented by the United Food and Commercial Workers Local 7.
Union officials argue the workers in the automotive service department are separate from the store and eligible for independent union representation. Wal-Mart officials disagree.
"With approximately 400 associates in that particular facility, we feel that more than 17 associates should have a say on such an important matter," said Christi Gallagher, a spokeswoman for Bentonville, Ark-based Wal-Mart.
Now if only the rest of the Wally World workers would have enough guts to stand up for themselves like these 17 employees have done.
"If the workers took a notion they could stop all speeding trains; every ship upon the ocean they can tie with mighty chains." -- Joe Hill
(Swedish born American songwriter and organizer for the Industrial Workers of the World (IWW); his execution for an alleged robbery-murder made him a martyr and folk hero in the American labour movement. 1879-1915 )